A DAY TRIP TO SALZBURG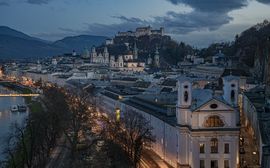 Explore the beautiful city of Salzburg and the surrounding historic and cultural landscape of the Salzkammergut based at the Platzl Hotel Munich. Both are easily reached by Premium Bus in just two hours from Munich. We offer day trips to Mozart's birthplace Salzburg every Tuesday, Thursday and Saturday for a day full of culture, cuisine and history.
Located directly on the River Salzach, the city is a popular destination and has been the venue for many important events in history. Salzburg was re-founded by Bishop Rupert in 696 as his see city. The city's main source of income at the time was salt mining and the salt trade, which led to the city being named "Salzburg" ("salt castle") in 755. Its most famous resident, however, was composer Wolfgang Amadeus Mozart, who was born here in 1756. He was an ingénue in playing both the piano and violin and in composing original works. At the age of 8, the Wonderchild was taken by his parents on his first concert tours, along with his talented sister Nannerl. In 1772, Mozart was appointed chief court musician by the archbishop of Salzburg, a position he held until he begged to be released from service in 1777. This was followed by many journeys and work as a freelance composer and piano teacher. A few weeks after the 1791 première of "The Magic Flute", Mozart died in Vienna at the age of 35. The cult of Mozart took a few decades to become established, hitting a high point with the erection of a monument in his honour in 1856. In 1996, Salzburg's historic city centre was declared a UNESCO World Heritage Site.
The most famous attractions of the city include the ornate old town and the medieval Hohensalzburg fortress, the Hellbrunn Palace with its breath-taking gardens and the Mirabell Palace. The city's location directly on the Salzach River gives the city a special atmosphere. Salzburg is also well-known far beyond the borders of Austria for its music festivals and offers everything you could desire in terms of both culture and cuisine. From tender Wiener Schnitzel to the famous Kaiserschmarrn pancakes, and the delicate chocolate Mozartkugel, you will definitely feel pampered by the luxurious delights on offer across the city centre.
The day trip will start with a walking tour of the historic city centre and a look at the city's impressive buildings. The trip then continues at the Wolfgangsee in the Salzkammergut, a beautiful lake that extends eleven kilometres in length and is 2.5 kilometres across on the northern edge of the Alps at an altitude of 539 metres above the sea level. You can choose to take a boat ride to the village of St. Wolfgang and visit the pilgrimage church there or enjoy the panoramic views across the lake. On the return trip, you'll stop at the Mondsee, where "The Sound of Music" was filmed.
We'll be glad to organise this trip for you. Just contact our reservations team by phone (+49(0)89/237030) or email.

Picture Source: <link http: www.flickr.com photos in photolist-6yysfe-6fbpkt-6fbslr-6fbti6-6ffang-72k5zz-8hpmyw-eyfkyp-avcm2r-epijdx-epuvjm-dq3uwt-dq3ugr-dq3usf-eyfzgv-eyubaj-eyhk86-eygt8d-eygygn-eyttjj-eyfebv-eyfuo4-eygmm2-eyg1ja-eyfzx6-eyfk3x-eyhjje-eysymq-eythfw-eyfapr-eyfzwv-eyfs2f-eyswdl-eyhavp-eygbbv-eytcmh-eysqxs-eyu5ee-eyfqqp-eyucjq-eytzfw-eyhmmz-eytyg9-eyuhvn-eytrgy-eyflxt-eyffb8-eygklz-eyshte-eygugh-eysqtg _blank>Jaya Krishna A