Award for Bavarian Excellence for Wirtshaus Ayingers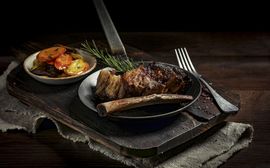 This award stands for regional, seasonal and original cuisine at a sophisticated level. We are delighted, because this award validates our efforts over the past few years.
What is "Ausgezeichnete Bayerische Küche"?
The classification was created by the Bavarian Association of Hotels and Restaurants, the Bavarian State Ministry of Food, Agriculture and Forestry, and the classification specialist Bayern Tourist. It aims at promoting an authentic Bavarian culinary experience, with a focus on seasonal and regional products. Until now, only around 120 restaurants in the whole of Bavaria have been awarded either one, two or three diamonds. So, the criteria is definitely not easy to fulfil.
What is rated?
Of course, the food and drinks are given the strictest criteria to fulfil in the evaluation of the Bavarian restaurants, meaning the "product quality": What does it taste like, where does the product come from, how are the plates served for example? All of this makes up around 60% of the overall rating.
Yet the surroundings also play a role in the rating. The restaurants must fulfil high standards in terms of storage, hygiene and sanitary area, and the ambience in the guest areas should reflect an authentic Bavarian character. The service quality is the final ingredient to the overall rating.
Wirtshaus Ayingers gets even better
Two diamonds are already a very good overall result, but we don't want to rest on our laurels. We have already partially renovated WIRTSHAUS AYINGERS and made it even nicer.
Visit us and enjoy our Bavarian two diamond cuisine in a fresh ambience.