SCHÖTTLE'S GASTRO TIP: AYINGER BRÄUSTÜBERL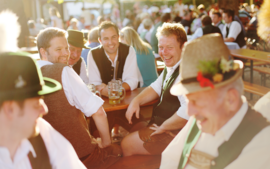 That is why my gastro tip takes you into the outskirts of Munich, where nature is just waking up, and beautiful, idyllic scenery awaits you. Let me introduce: The Ayinger Bräustüberl – with a beer garden of course.
Real Bavarian ambiance with history
The Ayinger Bräustüberl is part of a whole building complex surrounding the Ayinger private brewery. This was founded in 1878, and has been family owned since then. In 2013, the Inselkammer family renovated the Ayinger Bräustüberl, and focused on traditional values, in doing so: Valuable, rustic chairs and tables, wood paneling, vaulted ceilings, stone tankards and stags antlers lend the Bräustüberl an authentic Bavarian ambiance.
Traditional cuisine, as you would expect from a Bavarian tavern
The food at the Ayinger Bräustüberl is as rustic as the furnishings: Simple but good, and guaranteed to make you feel full. Hot specialties such as Munich boiled beef, oven fresh roast pork or Böfflamott [pot roast beef] with Bavarian cabbage are available, as well as authentic Bavarian classic hearty snacks. I can also recommend the "traditional dishes"– previously, certain dishes were kept for individual days of the week, and at the Ayinger Bräustüberl this custom is being revived.
Ayinger Beer – private art of brewing since 1878
The heart of the Ayinger Bräustüberl is of course the home-brewed beer. Since 1878, the Ayinger Privatbrauerei has been family-owned, and you can taste the quality preserved over decades with every mouthful. A large selection of original Bavarian specialty beers await you, from Bairisch Pils to Urweiße. Particularly popular at the start of the warm season: the Ayinger Frühlingsbier. A very drinkable refreshment that can be enjoyed in the "Biergarten" (beer garden) of the Ayinger Bräustüberl.
What could be nicer to round off the day with a bike ride?
Image source: https://www.ayinger-braeustueberl.de/biergarten/